Hydraulic MRL system in cabinet
The Compact hydraulic system in cabinet MRL for machine roomless lift installations combines mechanical pump unit and hydraulic
cylinder in a c

ompact package, easy and quick to install.

Deploying more than 30 years of experience, Wittur Hydraulic Drives has optimized the coupling between hydraulic pump and cylinder to obtain th e best performance and the lowest consumption.
The compact structure of MRL enables installation in a standard cabinet: no dedicated machine room is required for the lift.


Compact structure
Placed in a cabinet, with connection on the left or on the right, both in the from side or in the back side
Cabinet according to CE Standards
Pump placement designed to optimize quantity of oil used
Pump mounted on dumpers
Easy maintenance of the valve section: modular valve body placed in an easily accessible position
Valve group featuring aluminum pistons with hardened surface. They offer high reliability and fast feedback to obtain smooth car travel
Valve group uses a patented silencing system "Kit silenzio" to reduce operating noise
External interception valve with integrated filter can be moved to ease connection from each side: layout design becomes very simple
Hand pump for emergency upwards travel is integrated in the valve group, in an easily accessible position
Wide range of models: from 55 to 150 l/min., from 3,3 kW to 14,7 kW
-------------------------------------------------------------------------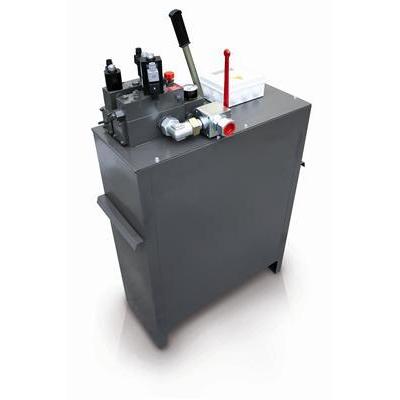 Pump unit H
M
HYDRAULIC PUMP UNIT WITH MECHANICAL VALVE

Hydraulic pump unit for elevators directed towards maximun silence and comfort during travel

Convenient solution
Robust and compact system
Easy to set and maintain, body of the block is modular and friendly accessible
Block has pistons made of hand aluminium for highest releability
Very quiet thaks to patented system called "KIT SIENZIO"
Approved until 45 bar
Filter is external and adjustable 360°
Installation in cabinet is avaible on 4 sides
Hand pump for emergency operation is included and easy to access. Avaible remote vertion.
In conformity with EN 81/80\
--------------------------------------------------------------------------------------------------------------
Pump units for passenger lifts
Pump units for passenger lifts using electronic valves, featuring a very low noise and a very high level of comfort during operation.
They offer a higher efficiency and an energy saving of up to 30% when compared to traditional pump units installed on short travel systems.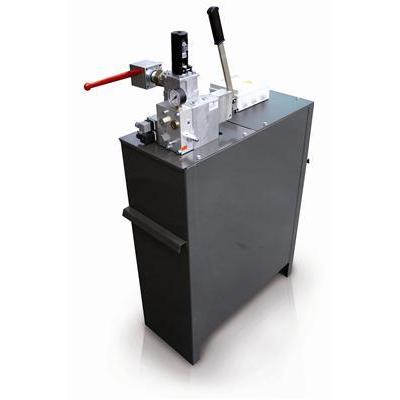 Compact structure
Pump placement designed to optimise quantity of oil used
Pump mounted on dumpers
The electronic valve, by modulating flows and timings, transfers less heat to oil during operation: significant energy saving
The electronic valve compensates oil viscosity variations due to changes in temperature: smooth and constant performance is guaranteed
Easy maintenance of the valve section; the valve is ideal for high traffic installations
Very accurate control of leveling to floor
External interception valve with integrated filter can be moved to ease connection from each side: layout design becomes very simple
Hand pump for emergency upwards travel is integrated in the valve group, in an easily accessible position. A remotely controlled version is also available
Can be placed in a cabinet, with connection on the left or on the right, both in the from side or in the back side
Wide range of models which covers any application (from 55 to 600 l/min., from 4.8 to 58.8 kW)
Available in an optional version using a heat resistant drive
Extended range of models can be supplied upon specific request
--------------------------------------------------------------------------------------------------------------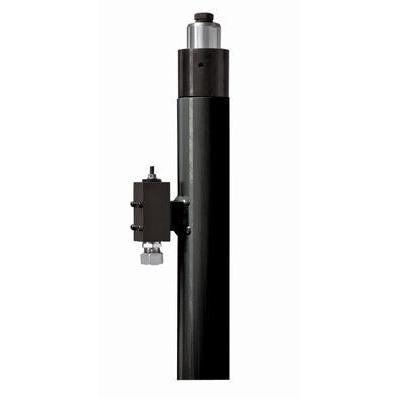 Indirect cylinders
Maximum flexibility

Cylinders for indirect 2:1 or 4:1 lift applications, which offer the maximum flexibility in the field of hydraulic driven lifts. A very simple structure accounts for a very high operational reliability.
Supplied with centring dowel upon request.

A chrome finishing for the rod is available as option to protect it from wear and tear and oxidation
Produced exclusively using non-welded rod tube
Also available in a version with double protection layer
Tested for use with environment-friendly biodegradable oils
Available in "slim" version using a reduced quantity of oil
Execution with 1 or 2 seams
Rod protection for travels longer than 8 m in seamless execution
Overspeed safety valve certified by TUV according to EN81.2 standards
--------------------------------------------------------------------------------------------------------------
Hydraulic car frames
Modular system WLF


The WLF series car frames are designed for total loads (P+Q) up to 4000 kg.

Compliant with EN81 specifications
Car frame heights can be chosen freely (in mm steps). In our standards models the maximum car height is 3450 mm
Modular structure (single components like guide shoe, safety gear, ... freely selectable, depending on request)
Available with progressive safety gear SGB01, SGB02, SGB05, roller safety gear SGA-88735, HKD503-D
Suitable for rail head width 16 mm and 19 mm
Suspension 1:1 or 2:1, as well as 3:1 or 4:1 (WLF06 and WLF10 only)
Easy installation
Small shipping dimensions
--------------------------------------------------------------------------------------------------------------
Rope car sling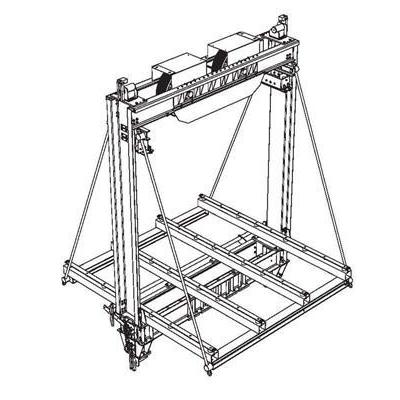 WCS60

The car frame WCS60 is used for low speed elevators and total loads (P+Q) up to 17000 kg.

Meets the EN81 specification, even other safety codes if required
Car frame width (DBG) as well as frame height can be chosen freely (in mm steps) within the technical limits
Progressive safety gear SGB03 Duplex
Roller type safety gear SGA-I70
Recommended guide rail width 32 mm
Suspension 2:1 or 4:1 (Pulley above car)
High ride comfort due to insulated car fixings for roof and floor